We provide you with our list of 10 best plugins for wordpress 2017, because one of the biggest advantages of having a web page based on WordPress is, among other things, the possibility of installing different plugins for practically any need.
With our Top 10 you will be able to personalize your web making it more accessible or visual, to facilitate its administration with tools of management of keywords or statistics.
The amount of existing plugins is getting bigger and being the best is getting harder because of the competition out there. But there are always some essential plugins for practically any user. We will propose a list of TOP 10 that we believe are the best plugins for WordPress in 2017.
10 best plugins for WordPress
AKISMET
The Akismet plugin provides its users with a powerful anti-spam tool. It automatically detects spam on our website and delete it automatically, always leaving a history of deletions so that the administrator of the website can check it at any time and manually correct if there is an error. You may notice in wordpress dashboard that this plugin installs by default with your wordpress.
YOAST SEO
WordPress SEO by Yoast is undoubtedly one of the best plugins for WordPress. Both for us and for many other bloggers. It is the best SEO plugin and is a must for any website created with WordPress. The plugin of YOAST, for those who do not know, allows to greatly simplify the task of positioning your blog or website in search engines. What this plugin does is a count of the keywords that exist in your writing and through a list of recommendations orients you how to distribute your keywords in the text and do it in the most efficient way possible. If the SEO of the page is efficient for search engines, the traffic light will turn green and the page will be ready to be published.
JETPACK
If we talk about the best plugins for WordPress, we can't skip Jetpack. Which provides a pack with varied and very useful tools. Jetpack provides tools to increase traffic, view web statistics, improve site speed and upload images, create contact forms as well as subscription services and protect you from hackers, among other things.
It is a multipurpose tool and it puts at your disposal different tools that you can use or not, as you prefer. This plugin also connect you with http://www.wordpress.com and http://gravater.com
GOOGLE XML SITEMAPS
With the Google XML Sitemaps plugin, you can easily create a special sitemap so that different search engines like Google, Bing, Yahoo and Ask will position you better.
Having a good sitemap is almost essential if you want to position yourself well. In addition, you will help search bots to locate your website well and easily.
In addition, this plugin will only be responsible for notifying the biggest search engines every time you upload new content to your website.
WP SUPER CACHE
Following with the list, WP Super Cache and its "twin brother" W3 Total Cache, are the best plugins for WordPress in the category of optimization and performance. This plugin improves the performance of the cache of your website and, therefore, improving the download of the pages for your visitors. It is simple, quick to configure and start up. It will provide you with a great improvement in the performance of your website in free.
SHAREAHOLIC
If you need a wordpress plugin that lets you share add buttons for your social networks and a bar of "like" no more complication, look no further, with Shareaholic you will have a nice and simple bar at the end of the entrance with the different buttons so that Your users can share the page in their social networks and also a line of related post, among other utilities – among which are social statistics or affiliate links -.
DISQUS COMMENT SYSTEM
If the native comments box of WordPress does not like or you just think it bad tool and you want to change it for something better, the best option is to use the Disqus comments drawer. Since it allows visitors to use their Disqus account, which is global, to comment on your blog and gives them more options and facilities to comment.
Disqus also provides a great anti-spam filter, so if you use this plugin, you would not need other spam drivers.
YARPPP (YET ANOTHER RELATED POST PLUGIN)
In this case, YARPP is a WordPress plugin with similarities to the "post related" tool in Shareaholic. Only in this case is a specialized tool in this and that will also allow you to post related promotions from different sources that will allow you to earn money.
SUMOME
The Sumome plugin provides the ability to create a subscription list for your blog for free and easy. As well as providing tools to share your publications on social networks. If done well, a page with average traffic can get thousands of subscribers in less than a year.
One of the biggest mistakes when having a blog, is not having a subscription list so that visitors interested in our page can receive interesting content on our part. That is why we consider that this type of tools is indispensable for, above all, a blog.
CLICK TO TWEET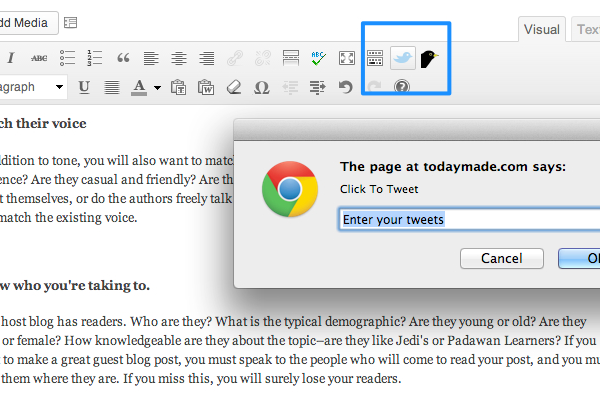 If you want to increase your traffic via Twitter, this plugin is one of the best options to create boxes inside the post of your blog so readers can tweet it with just one click. Something so simple and that will provide a great incoming traffic from the social network.
If you do not already have a blog or website and want to base it on WordPress, we can offer you a WordPress professional hosting currently on offer and we will help you get it up and running.
We hope you enjoyed our list of the best plugins for WordPress.
Latest posts by Beetle Post (see all)